:: GRAPHICS ::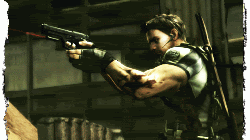 :: GAMEPLAY ::
Resident Evil 5 features the tried-and-true third-person action elements that were included in Resident Evil 4. Everything from the gameplay and shooting mechanics to the camera position. It all comes from the previous game in the series. Albeit in a more polished form.
There is a solo story mode where you play as Chris Redfield while the CPU controls Sheva Alomar. In 2 player mode, Sheva is automatically controlled by the CPU. She has an advanced A.I. that enables her to adapt to the necessities and demands of her human counterpart. However, the human player is still able to instruct its A.I. controlled partner to perform certain basic actions.
There is also a co-op (two player) mode that you can play off-line or online. The screen can split in two to allow each player to monitor what their partner does while on a mission. This is important, because if one player needs help with a particular assignment, the other player can be alerted and provide some support. Many levels were in fact designed for co-op gameplay and it would be impossible to progress through the game without active cooperation between the two main protagonists. It is also vital to keep an eye on a partner and make sure he (she) does not die or else the game will come to an end.
In all the previous game modes, each player can swap items or weapons with the other player at any time.
Inventory management is done in real-time. You don't get to pause the action to choose a particular weapon or item.
The game includes 4 different control systems. It includes the improved "tank" controls employed in RE4 as well as a shooter-type control that will be familiar to most FPS fans.
The famous Quick-Time Events from RE4 are back. Players are able to interact with the game during cutscenes and during actual gameplay. In co-op mode, both players are required to react to the QTE's at the same time.
Like in RE4, players are able to sell, buy and upgrade their weapons.
During melee battles, each character can perform a signature move to fight-off enemies (like a thrust punch or kick). Both characters can also join forces to perform specialized moves that they can only pull off together.
The game includes the possibility to collect "Achievements" or trophies all through the game by accomplishing certain tasks.
The game includes several mini-games that feature multi-player action.