Drawing made by Jedzelex (used with permission)

Number of copies of Resident Evil (RE-make) sold?

According to Capcom's Platinum Series Report for January 17th 2007, there have been 1.300.000 copies of the game sold so far.



No Rocket Launcher glitch for the PAL version?

Yep. Only the American and Japanese editions of RE-make allow the RL trick.



What's up with Lisa Trevor? What's her story?

Lisa Trevor is the daughter of George Trevor, the architect that built the Spencer mansion. Later on, Ozwell Spencer, the founder of Umbrella and owner of the mansion, invites Trevor and his family to spend a weekend there. It's actually a trap. The family are to become test subjects for the Arklay scientists.

George Trevor is infected with the T-Virus and is imprisoned beneath the mansion in a maze created for that purpose by Spencer. As a zombie, George is suppose to die from hunger there. However, once he loses consciousness he transforms into a new creature. He becomes the first of the Crimson Heads. He is then captured and after some tests, he is sealed away in a crypt behind the mansion.

Jessica Trevor, Lisa's mother dies after some experiments are performed on her. But Lisa for some reason manages to survive similar tests. She remains an Umbrella guinea pig for the next twenty-eight years.

You can also learn a lot more about Lisa by finding a translated copy of Wesker's Report 2.



George Trevor's last diary entry is dated November 31st... what gives?

Yeah, I know. November only has 30 days not 31. You must consider that George was starving when he made that last entry on his diary.

He also mentioned that he felt like he was losing his mind. So it was only natural for him to suffer a lapsus mentalis.



Those work stations that use MO-Discs... are they...?

Black GameCube consoles? Yeah, I guess so. Take a better look below:


Speaking of look-a-likes... Is Barry Burton a clone of Jeff Daniels?

You be the judge of that: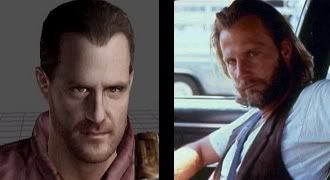 Return to REmake's main page...