This section covers some weird & random stuff we noticed in Resident Evil: Degeneration.
Umbrella as a weapon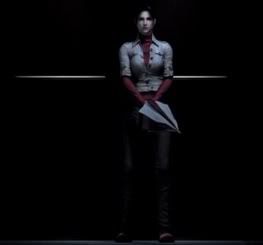 At one particular point in the movie, Claire feels the need to investigate a few corridors from the airport.

Because there is the possibility that she will run into a zombie or two, before she goes out from a safe zone she decides to find something that would act as a weapon. The only thing she finds, is an umbrella.

If that wasn't enough to drive home the irony of it all, the umbrella has the same colors as the logo of Umbrella Corp.

BTW, it should also be noticed that Claire clothes also match Umbrella's emblematic colors... weird, eh?




Reading Backwards

Inside Frederic Downing's office, you can see a report book which title is written backwards. Just look at the images below:
| | |
| --- | --- |
| "normal" image | mirror view of the same image |
The first image shows the report book as it appears on film. The second image, has been flipped so that you get a mirror view of the scene. If you inspect that image closely, you can now see that the report is named, "Interoffice Memo".

There is another scene inside the office where Claire drinks the tea that Frederic has prepared for her. While she sips the tea, you can see behind her and on a bookcase, more reports with backward titles.
News Update: we're out of razors!

For some strange reason, all the local news anchormen from Harvardville have that Miami Vice 80's look. That is, they have the 5 o'clock shadow thing going on. With an unkempt mug that makes them look like their make-up guy/gal went on strike or something. Take a look at the image below.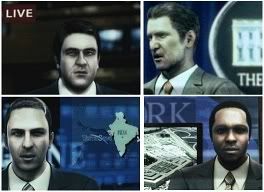 It's weird because most anchor men are basically metrosexual freaks that won't go on camera unless they have tons of make-up on. Not the ones from Harvardville, though.

P.S. The picture above also includes the President of the US. Who we all assume is Ashley Graham's father (unless he was impeached for having such a clueless daughter and replaced by some other guy).

Silly rabbit... Claire Redfield is for kids!

Most Claire fans are well aware of this one.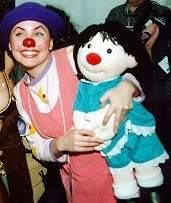 But for those that aren't... well, take a peek at the image to the left side of this text. See the clown-girl holding a doll? You think that's cute, dontcha?

For those of you that have (or had) toddlers in your household, there is a very good chance that clown-girl is someone you know all too well. She is Loonet from a popular kids show that goes by the name, The Big Comfy Couch.

Get this... the name of the actress that plays the clown is Alyson Court.

Now, consider that she's also the actress that did the voice of Claire Redfield in Resident Evil 2, Code: Veronica as well as in the Resident Evil: Degeneration movie.

With that in mind, whenever you see Alyson swear in the movie, it sure makes the kid in us laugh everytime.

Return to Resident Evil: Degeneration Page